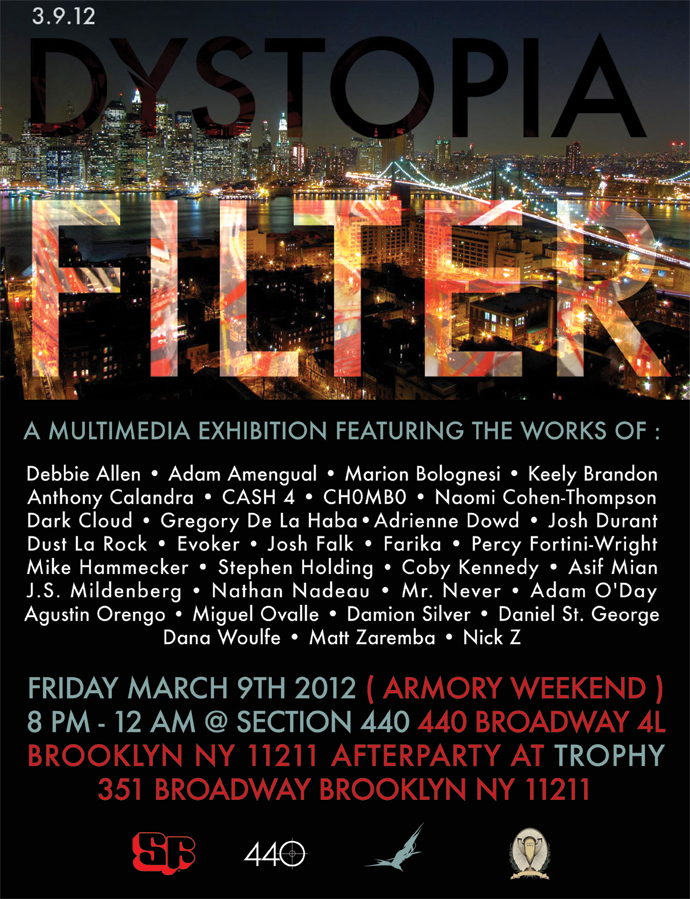 Armory Week is soon approaching, which means the third installment of DYSTOPIA FILTER is right around the corner. This year's show is bigger and better than ever, with a roster of 31 artists working in a wide range of media:
Debbie Allen – www.debbieallen.tumblr.com
Adam Amengual – http://www.adamamengual.com/
Marion Bolognesi – http://marion-b.com/
Keely Brandon – http://www.flickr.com/photos/xxkeely
Anthony Calandra – http://www.anthonycalandra.com/
CASH 4 – http://www.tumblr.com/tagged/cash-4
CH0MB0 – http://leagueofbikepolo.com/user/ch0mb0
Naomi Cohen-Thompson
Dark Cloud – http://www.brooklynstreetart.com/theblog/wp-content/uploads/2011/03/brooklyn-street-art-dark-clouds-jaime-rojo-pantheon-03-11-web.JPG
Gregory De La Haba – http://delahaba.com/
Josh Durant – http://joshuadurantart.weebly.com/
Dust La Rock – http://dustlarock.com/blog/
Adrienne Dowd – http://www.adriennedowd.com/
Evoker – http://dramavisuals.freeservers.com/intro.htm
Josh Falk – http://joshfalk.blogspot.com/
Farika – http://farikaphoto.tumblr.com/
Percy Fortini-Wright – http://www.p14ewright.com/
Mike Hammecker – http://www.mikehammecker.com/
Stephen Holding – http://www.stephenholding.com/
Coby Kennedy – http://citizenkroger.com/home.html
Asif Mian – http://evaq.com/
J.S. Mildenberg – http://jsmildenberg.com/
Nathan Nadeau – http://metalwing.com/blog/2010/05/03/looks-like-a-bad-sign/
Mr. Never – http://www.mrnvr.com/
Adam O'Day – http://adamoday.blogspot.com/
Agustin Orengo
Miguel Ovalle – http://www.dizmology.com/
Damion Silver – www.damionsilver.com
Daniel St. George – http://azstar78.com/
Dana Woulfe – http://danawoulfe.com/
Matt Zaremba – http://www.matthewzaremba.com/
Nick Z – http://www.youlovenickz.com/
So please join us for a drink and check out a cross-section of some of the most driven and talented creators working today. You will not be disappointed. Afterparty to follow at Trophy Bar.
Hope to see you there!