In 2017, we collaborated on an immense project called Neon Dream at Hubweek. Our fellow collaborators included Trifecta Editions, Cyrille Conan, and Steez Design. We did a lot of different things for this event, but today's blog post is going to focus specifically on the Live Screen Printing at Hubweek. Before we get into that, let's do a quick project introduction:
Neon Dream @ Hubweek
Hubweek is an amazing, multi-day festival that features artists, scientists, innovators, and some big corporate companies. Our primary role in 2017 was to create an installation that we called Neon Dream. It would be located inside of a 20′ shipping container. We decked our container out with high-powered black lights to create a surreal, neon experience. We added flourescent silkscreen wallpaper throughout the entire container, added black light animal portraits, a neon floral installation and even hand-silkscreened paper crystals by Helen of Trifecta. Here are some photos of the installation: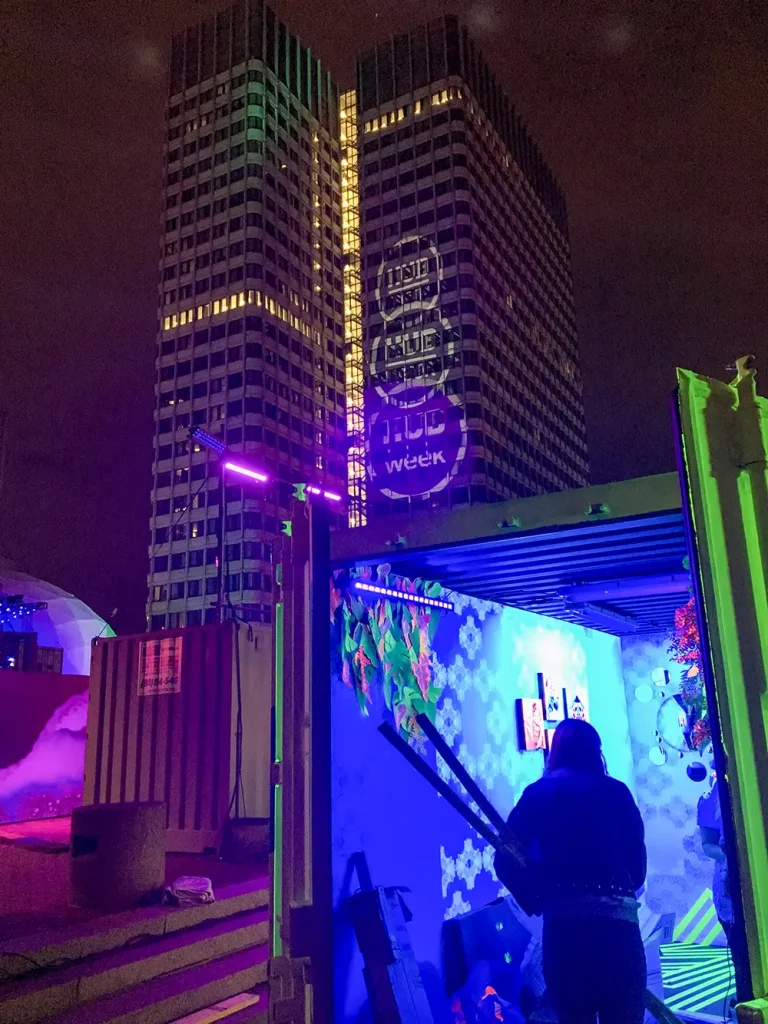 Live Screen Printing during the festival
To supplement our Neon Dream installation at Hubweek, we added a live screen printing activation. The live printing took place in the center of the festival grounds at Boston City Hall Plaza. Our container was located on the edge of the festival grounds, closer to city hall. As people came to our container, we told them about the live screen printing and vice versa.

Throughout the event, there were other artists painting murals on containers. The festival planners stacked multiple containers on top of each other to give this city within a city feel to the festival. Attendees were invited to add to giant glowing murals with fluorescent tape (ala Cyrille) or other provided art materials. The festival had a lot of creative energy and it totally came alive at night. Here you can see some of our favorite photos from the live screen printing portion of Hubweek.
Designing for live screen printing at Hubweek
We were given a lot of freedom from the Hubweek organizers. They allowed us to design all the graphics for the live screen printing event, provided they included the Hubweek logo somehow. Coming off creating all the art for our container, creating the T-shirt graphics went very quickly. We used a halftones image of our container, a hawk, owl and tiger image:
Years later, this project is still a huge highlight for us. If you have an event that you'd like to host us live screen printing at, feel free to reach out.