AntiDesigns got some good press from the people at Thrillist on Monday this week. We had no idea that was happening, so it was a real nice surprise – big thanks go to whomever was involved in making that happen. The original link is here.
We got a bunch of feedback from the post and one thing I'd like to make clear is that we don't have a shirt available with the tricycle dude from back bay on it. We never had one, actually. We did joke about it, a whole lot though. So much so, that (no lie) on my way back from MAGIC two weeks ago I sketched out this little ditty out from a quick phone photo I got of the man in question this past summer while he was riding through the Commons: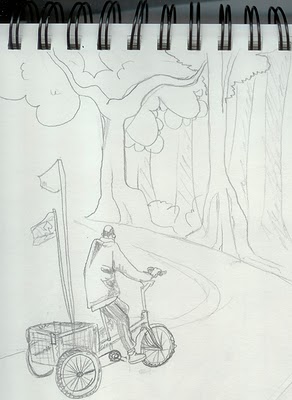 So when I read the post and caught this line: "with an urban streetwear vibe and decidedly local flavor, like a wearable version of that dude who rides the cart bike through Back Bay screaming WOOO" I gotta wonder who the hell these people are and how they got inside our heads!
Btw that hand-drawn header action on the top of thrillist/boston is very nice.